Colorado Hemp Honey is a raw honey food produced at the foot of the Rocky Mountains.

"Frangiosa Farms is committed to responsible beekeeping in the face of bee decline through community education, backyard beekeeping, and support of locally sourced pure and simple honey. I raise my bees with organic practices and love to talk about the wonderful world of bees and the benefits of local raw honey."
- Nick French, founder and beekeeper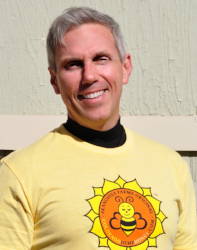 ABOUT OUR FOUNDER
If you read Nick's bio, you will learn about his inspiration to create Colorado Hemp Honey so that people and pets can feel rested and happier. The story of Colorado Hemp Honey did start with people and their pets in 2015, but the story of its parent company Frangiosa Farms started by working with the bees and Nick's passion for urban farming in 2008.
Frangiosa Farms began with Nick's passion for beekeeping and the healthy, beneficial base for Colorado Hemp Honey products – raw honey. He wanted a way to focus on natural, sustainable beekeeping practices that considers the long-term effects of maintaining healthy bee colonies.
Nick established an organization as a subset of Frangiosa Farms, Adopt a Honeybee, to do just that. Bottom line – if the bees are not properly and carefully cared for, then they cannot be productive and happy and we cannot have amazing raw honey. The best way is to work with the bees. It is the only way!
Our beekeepers use only organic practices to care for the bees and their hives. Since chemicals and pollutants in the environment are killing bees, it does not make sense to add chemicals to a hive to make them healthy. To care for the bees and their hives, the beekeepers dust bees with powdered sugars to encourage grooming and don't use chemicals to spray the hives. Instead, they use essential oils (it's not just for Colorado Hemp Honey after all!)
When you support Frangiosa Farms by supporting Adopt a Honeybee and buying our honey products, you make a positive difference for the bees. We use every penny of your donations to Adopt a Honeybee to buy more equipment to establish new bee colonies, develop programs that educate new beekeepers and supporters, and create a bee business where the honey sales go directly back to creating more colonies. It is a sustainable loop where the bees help to save themselves!